Skip to main content
PSMG 23rd Annual Conference - Preparing for the Fourth Industrial Revolution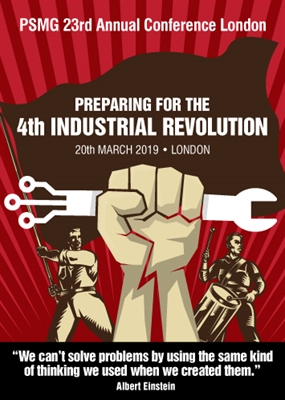 20 Mar 2019 08:00 - 17:30
Venue: One America Square Conference Centre, 17 Crosswall, London EC3N 2LB.
We are delighted to announce Alithya are the mainline sponsors of the 2019 Annual Conference
As always, our presenters are the most senior and the most recognised leaders in their field.
Industry 4.0 isn't just about billions of us connected through technology and able to access unprecedented levels of information. It's far more wide ranging. It will continue to transform management, governance and production and will be further multiplied across everything from artificial intelligence and robotics to analytics and the "internet of things".
In professional services many firms are finding the introduction of new technologies that create entirely new ways of serving client needs are significantly disrupting their existing value chains. Growing transparency, engagement, and new patterns of behaviour are forcing firms to adapt the way they design, market and deliver products and services, whilst clients are now at the epicentre and increasingly focused on how they can be better served.
The Conference will:
Look at how we integrate the digital and physical worlds.
Consider how we adapt to shifting pressures and ever-more complex demands.
Examine how we challenge and empower stakeholders
Review how the various eco systems connect.
In addition, it will cover how…
…embracing Industry 4.0 is achievable - and non-negotiable.
…clients increasingly want advisory firms to be more proactive as a business advisor.
…smart and connected ideas can be embedded across our sector.
…emerging technologies can transform the way we go to the market.
…new forms of collaboration are essential in addressing the speed of innovation.
…re-examining the way in which we do business is now more pressing than ever.
As a group, the PSMG is in a unique position to use a set of skills to equip our firms, clients and colleagues with the knowledge and the vision to pro-actively embrace the many and varied challenges (and opportunities) of Industry 4.0.
By initiating informed conversation, we can really convince people change isn't just necessary it's non-negotiable. But this is equally about viewing change as exciting and inspiring. Many of our clients are facing equally unprecedented and profound change - Industry 4.0 is our opportunity to help them whilst securing our own growth and continued success.
And, at such a changing time, we must embrace the best practice of other sectors to help us create new client services. After all, anyone can deliver a need in response to known demand, but it takes a brave soul to "build it and they will come".
And build it we must if we are to create an environment in which we have the agility to adapt to whatever the world throws at us whilst remaining a compelling proposition and a vital partner for our clients and for those with whom we work across the board.
After all, as Albert Einstein said: "We can't solve problems by using the same kind of thinking we used when we created them "
Conference Chairperson and afternoon keynote       
Sophie Schwass, Head of Legal Operations (COO to the Group General Counsel) at Lloyds Banking Group
Morning Keynotes        
Mike Hobday, Vice President and General Manager IBM Automation (Europe)    
Matt Meckes and Quentin Ellis, Directors, Cohaesus
"Your Clients Customer"
Demands on B2B businesses and their professional service firms are increasingly driven by consumer trends. We shall investigate how you can use these trends to stay ahead of the curve and predict the services you will need to provide in the near and the short term. Trends, foresight, and data-driven tools.
Workshop Presenters:      
Morning 
1. Paul Smith, Partner and recent Chairman, Eversheds Sutherland and Sally Dyson, Managing Director, Firm Sense
"Selling professional services in the 4th industrial age"
"Half the money I spend on advertising is wasted; the trouble is I don't know which half!" So said John Wanamaker a hundred years ago, during the first industrial revolution. Happily, we now know a lot about how clients buy. Using insights from procurement professionals, institutional buyers, client forums and tech providers this workshop will examine how clients choose firms, what performance metrics really matter to them and the relevance of technology to their buying decisions. We're going to get you thinking and talking about how your firm operates and ways it can marshal technologies to adapt to the new ways of interacting with colleagues and clients to give your firm a boost.
2. Sarah-Jane Howitt, Partner together with Stuart Whittle, Business Services & Innovation Director, both at Weightmans LLP
"Innovation – the big I and the little i"
The question of innovation - what it means, what it is, how does one deliver it – is something constantly debated, but perhaps never adequately answered. As professional services marketers we've been grappling with the concept of delivering something new and exciting to our clients for as long as we can remember within environments that are not intrinsically conducive to innovation.

Join us for an interactive workshop where we'll explore how you can use innovation as a key part of your business development and CRM activities. Stuart and Sarah-Jane will share some of Weightmans' experiences and you'll also learn how to develop an innovation-led approach within your firm, collaborating and engaging with clients to deliver something new and innovative.
3. Shamus Rae, Partner, Head of Digital Disruption, KPMG UK
"The digital future of the professions"
For the last two years a team in KPMG has been looking at the future of the professions and has created a series of hypothesis around the digital services platforms that will exist in the future. Come along to this workshop and listen to the hypothesis and debate/discuss.
4. Paul English, Global Leader - Markets & Clients, Grant Thornton International
"Creating new markets from disruption"
In the context of disruption and the 4th industrial revolution, how do new markets evolve and what can your organisation do about it? We will explore key concepts on strategy and innovation from some of the world's leading thinkers and consider how they can be applied to your firms and your markets.
Afternoon
5. Matt Meckes & Quentin Ellis, Directors, Cohaesus
"Foresight and Consumer Trends" 
In this workshop we investigate how you can use these trends to stay ahead of the curve and predict the services you will need to provide to stakeholders and clients in the long and short term.
The format for this inspiring and interactive session will be a 30 minute presentation on trends, foresight and data driven tools followed by Q&A's and a one hour hands on workshop to analyse two key clients trends, and how they may affect your firm.

6. Adam Spurr, Managing Director - UK, Alithya
"It's Business Development – but not as we know it"
Join our workshop with three leading experts in Marketing, Social Selling and Digital Transformation, they will help you learn key best practices of how your organisation can create new sources of client value.
Leading with marketing and social selling we will look at how to overcome the challenges of client acquisition and retention and recommendations for digital transformation to increase revenue and growth. With real-life client examples from other professional services firms like EY, BDO, Serco, Slater & Gordon and more. This session could be your 'Golden Ticket' to accelerating your organisations business development.
7. Gavin Edmonds, Head of Experience Design together with Isha Chander, Marketing and Sales Director, 6point6
"Design Thinking - a simple mind shift to focus your business on your customers needs"
Organisations need to continually evolve their products in order to better meet clients' needs and find points of differentiation in their marketplace. Client expectations are continually changing as they gain new experiences through digital engagement with brands, and the bar is rising for organisations to remain relevant and avoid digital darwinism. Embracing digital is crucial for a viable future. Digital includes every aspect of an organisation, from the client experience of the brands products and services, business processes and the related colleague experiences to operate those services.
As the digital medium evolves for clients to engage with digital services, businesses needs to have a plan for how to transform the service offering, business processes and digital solutions to deliver and be capable to evolve continuously, efficiently and effectively.
In this workshop learn how to leverage design thinking in your business and methods to use that place users at the centre of everything you do. Be client obsessed and not just client focussed.
8. Rod Lambert, Director, Mediasterling together with Christian Lund, CPO & co-founder and Christian Meldgaard, International Partner Manager, Templafy
"Tough choices. Be different or safe? Offer the ultimate or keep it real?"
Our workshop focuses on creating better proposals using automation and predictability based on real-time data insights. We also explore how to drive changes in approach, the potential value and how to empower employees to take a lead in digital disruption and social selling within your firm. Gain practical insight on change management techniques for enhancing work with documents and assets.
The Conference  
The PSMG Annual Conference is one of the most exclusive and prestigious professional services marketing conference in Europe. It provides a forum for delegates from the UK, Europe, the Middle East, US and Australasia to learn, discuss and share information on new developments in the professions. The Conference combines creative, relevant thinking with practical, achievable solutions to the complex issues faced by marketers in a changing landscape.  
The Conference is recognised by the Chartered Institute of Marketing, The Law Society, The Institute of Chartered Accountants in England & Wales and the Royal Institution of Chartered Surveyors for continuing professional development and qualifies for 6 CPD points and 18 CPE points.  
Who should attend?
Senior marketing professionals, heads of function, marketing and business development directors, managers and partners from leading UK and international professional service advisory firms, market commentators, academics and consultants.
Programme
8.00am         Registration & Continental Breakfast
8.45am         Welcome & introduction Gail Jaffa, Managing Partner, PSMG
8.50am         Chairman's introduction
9.00am         Keynote Speaker 1
9.40am         Keynote Speaker 2
10.20am       Morning coffee
11.00am       Workshops Round 1 (4 sessions)
The delegate fee includes a choice of workshop in both the morning and afternoon
12.30pm       Buffet lunch  
1.45pm         Morning workshop roundup with the presenters
2.15 pm         Workshops Round 2 - (4 Sessions)
The delegate fee includes a choice of workshop in both the morning and afternoon
3.45pm           Afternoon tea
4.15pm           Afternoon workshop roundup with the presenters
4.45pm           Keynote speaker 3 (to include Chairman's summary and conclusions)
5.15pm         Networking drinks reception with Live Music with "Cyan Jazz"   
*****************************************************************************************
Delegate Fees:                                        
PSMG Members                              £550.00  
2nd & subsequent                           £520.00
Non Members                                 £650.00  
2nd & subsequent                           £620.00  
International Delegates                   £475.00 Members   Non-members £550.00
Registration Fees (exclusive of VAT): The registration fee includes attendance at a workshop in both the morning and afternoon. 
Booking a place is simple - either email gail.jaffa@psmg.co.uk or telephone 0207 033 9150
Terms and Conditions of Booking:
Cancellation by you: Cancellation received in writing to the PSMG office or by email to gail.jaffa@psmg.co.uk more than 28 days before the conference date will receive 50% refund of the registration fee. We regret that there are no delegate fee refunds for cancellations within 28 days of the conference date or for non-attendance. Transfer to another delegate name is permitted.
Cancellation by us: It may be necessary for reasons beyond the control of PSMG LLP to change the content or timing of the programme, speakers, date or venue and all registered delegates will be notified in the event of a substantive change. In the unlikely event of cancellation of the conference PSMG LLP will make full refund of any delegate fee paid but disclaim any further liability.
The registration fee must be paid in advance of the conference date to guarantee your place. PSMG LLP reserves the right to refuse admission to delegates if payment is not received in full before the conference date.
Confirmation of any booking/agreement forms a binding contract and the parties thereto are subject to the jurisdiction of the English Courts and that English law applies.
A HUGE THANK YOU TO ALL OUR SPONSORS. WE COULDN'T DO IT WITHOUT YOU!

_______________________________________________________________________________________________
EXHIBITORS