Passle Insiders Club: How to start your own Podcast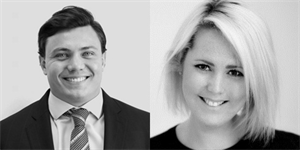 12 May 2022 12:00 - 14:00
Venue: FRP Advisory Trading Limited, 110 Cannon Street, London EC4N 6EU
Alistair Bone, VP Sales, and Charlie Knight, Digital Marketing & Content Executive, both at Passle
Registration 12 noon with a speaker start of 12.30pm to approx. 2pm    
In this interactive session with Passle, they will be sharing best practice advice for starting your own podcast, giving tips for every step of the journey. From utilising podcasts to amplify your firm's voice, to building the brand of your fee earners, this session is not to be missed. 
Key takeaways:
Creating a unique, effective podcast in the professional services space
How to execute a podcast effectively, from guest recruitment to recording & editing
How to promote a podcast and capture long term listeners
Alistair Bone applies lessons and skills learnt from professional sport and executive search in a commercial role at Passle - a sales and marketing platform that enables busy experts to create content and share it with people that matter and establish themselves as the go to experts in their field.
Such a tool and sharing of expert insights is particularly beneficial to those managing their own world in Professional Services, as he has seen first hand over the past few years.
Having retired from rugby he has taken on the Team Manager role of Esher Rugby, as well as enjoying the culinary delights that London has to offer.
Charlotte Knight is an external communications and content specialist, experienced in delivering effective social media, PR and marketing campaigns that support SMEs, start ups and socially driven organisations.
She is passionate about creating engaging content to help businesses thrive. Alongside this, she is a textile and surface designer with a passion for interiors.
Event price: £130 + VAT    
Members receive a 50% saving on the full price and pay £65 + VAT  
To register for a place please email gail.jaffa@psmg.co.uk or telephone  +44(0)7956 443745   
Terms of Booking and Cancellation Policy   
Receipt of your booking indicates acceptance of liability to pay the attendance fee. Cancellations received in writing more than 7 days before the seminar will be refunded, less £10 administration fee. We regret that no refunds are allowed for cancellations or transfers within 7 days or for non-attendance. PSMG reserves the right to refuse admission if payment is not received prior to the event. 
Important note: The booking email constitutes a legally binding contract. It may be necessary for reasons beyond the control of PSMG LLP to change the content and timing of the programme, the speakers, the date and venue. Whilst every effort will be made to prevent this, in the unlikely event of the programme being cancelled, PSMG LLP will automatically make a full refund but disclaim any further liability.