Talking Heads: Never let a good crisis go to waste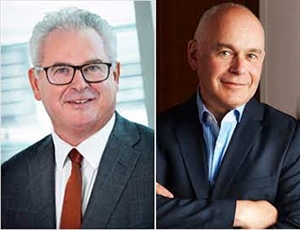 10 Jun 2021 10:00 - 11:00
Host: Myddleton Communications
Leaders: Philip Rodney, Principal, Rimalower Consulting and Paul Smith, Head of Professional Services and Non-Executive Director, Calls9 with David Leck, Editor, Centrum Magazine as Moderator.
In this senior roundtable discussion Paul and Philip will discuss:
How do we make the purchase of legal services more like the Amazon experience?
Will GCs choose their lawyers differently? 
How do law firms engage with a new generation of clients? 
What does it take to build meaningful partnerships with our clients? 
What can we learn from other sectors? 
How will the firm of the future look? 
How smaller firms can eat the lunch of their competitors.
Going to market as one firm and and one brand, with silos behind the veil. 
The importance of trying new things
Please come prepared with your own questions, as the panellists will endeavour to approach this as an interactive discussion.
Philip Rodney  
For nearly 20 years Philip Rodney held leadership roles, including 13 as executive chair, at Burness Paull. During that time they developed and implemented a strategy that transformed the firm from a mid-market Scottish legal practice into a leading commercial law firm recognised across the UK and internationally.When he left the profession in 2018, Philip set up Rimalower Consulting, providing "business thinking from the head down" to clients in the professional services and commercial sectors. Philip has written on business for various publications, including The Times and sits as a non-executive on a number of boards.
Paul Smith  
With over 30 years of experience Paul helps law firms build sustainable growth plans.  
He is a legal innovator and former global chairman of the international law firm Eversheds Sutherland, leading the company's global client strategy and winning global missions at companies such as Tyco and DuPont. Paul also led the company's transatlantic merger and founded a company with revenues in excess of $ 1 billion.
Latterly he joined the board of Calls 9 as Head of Professional Services and is Principal of his own consultancy, Swincliffe Consulting.
Event price: £95 + VAT   
Members receive a 50% saving on the full price and pay £49 + VAT
To register for a place please email gail.jaffa@psmg.co.uk           
Terms of Booking and Cancellation Policy   
Receipt of your booking indicates acceptance of liability to pay the attendance fee. Cancellations received in writing more than 7 days before the seminar will be refunded, less £10 administration fee. We regret that no refunds are allowed for cancellations or transfers within 7 days or for non-attendance. PSMG reserves the right to refuse admission if payment is not received prior to the event. 
Important note: The booking email constitutes a legally binding contract. It may be necessary for reasons beyond the control of PSMG LLP to change the content and timing of the programme, the speakers, the date and venue. Whilst every effort will be made to prevent this, in the unlikely event of the programme being cancelled, PSMG LLP will automatically make a full refund but disclaim any further liability