PRACTICE GROUP HEAD OF BD
Contract type:

Full Time

Reference:

21708

Location:

London
£competitive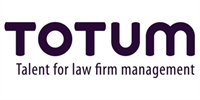 Posted by: Liz Chappell
Follow Totum on

Job Description
Leading the business development and marketing for the foremost practice group of this innovative City firm, you will liaise with the partners in implementing the strategy.  Working across their key sectors, you will review current activity and come up with innovative initiatives and thought leadership to continue to make this firm standout in their market. You will look at how to prioritise and push new areas of the business, as well as ensuring the more established parts are continuing to be market-leading. 
You will manage, coach and develop a small team. They are open to background, but BD experience of working within the legal environment is essential.  You will be commercial in your approach, enthusiastic and keen to explore new ideas. You will be a great influencer at all levels, consultative and also be able to embrace undertaking the tactical aspects of the role.
Follow us on Twitter for information on new jobs and market trends.