BD MANAGER
Contract type:

Full Time

Reference:

21653

Location:

London
£competitive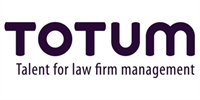 Posted by: Liz Chappell
Follow Totum on

Job Description
A fantastic and newly created role to join this growing business.  You will play a pivotal role in setting the BD strategy and bringing in clients for this litigation funding organisation.
With previous client facing experience, you will work closely with senior management to obtain an in-depth understanding of the business, set the strategy and target markets, build and maintain strong relationships with existing clients and spot opportunities for bringing in new clients. You will keep up to date with factors affecting this growing market and develop leading commentary.  This is a really different role which would suit someone who has worked at that strategic level with client facing exposure and understands or has a keen interest in the litigation arena. 
Follow us on Twitter for information on new jobs and market trends.